Here's a Medtronic 640G sitting on top of the box it came in. But why is the photo on the box of a different pump? Notice the reservoir cap in the upper left of each. The pump on the left has a longer black extrusion sticking out of the pump, whereas the one on the right is almost flush with the top of the pump.
In case you didn't know, the Medtronic 5xx-series of pumps use 1.8 ml reservoirs, whereas the 7xx pumps can use either 3 ml or 1.8 ml (and are physically slightly larger). I think for most people (like me, so yes I might be biased) 1.8 ml (180 U) is more than enough insulin to last 3 days, after which you're going to be changing cannula anyway. But for some PWDs their insulin doses are much higher and they need the larger reservoirs to avoid having to refill the pump every day. The 640G takes either 3 ml or 1.8 ml.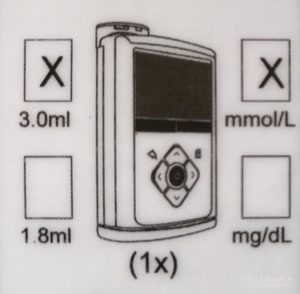 But it turns out that Medtronic initially had two versions of the 640G, one of which only took the smaller (more common?) reservoirs. I'm guessing that someone decided it was going to be too much hard work to stock two versions, and settled on only using the 3 ml version. And thus almost all the pumps out in the wild are only the 3 ml version (at least in Australia, which was one of the first regions in the world to receive the 640G). But this decision must have been taken after most of the product photography was already done, as most official images of the 640G you see in Medtronic's materials are of the 1.8 ml version.
Anyway, that'll do for today's bit of trivia!