Australian Insulin Pump Choices
December 2021 update
Here's the latest run-down. There are 6 pumps available new on the Australian market.
There are currently 4 pumps that can be purchased new through private health insurance and with reservoirs/infusion sets subsidised through NDSS. This list links short-cuts directly to the relevant sections of this article.
There's one more which is not currently supported by private health insurance, although the consumables are available through NDSS:
There's another pump that is not supported by private health insurance or NDSS. But is also available:
There are also some older pumps in use, such as:
As usual I'll run through them all with brief descriptions. Then I'll mention other pumps we're aware of which are not available at this point.
EOFlow, Insight, Medtrum, Kaleido, Mobi (t:sport), t:slim X3, iLet, Terumo, DIA:CONN, Sigi.
A note about "closed-loop" systems referred to below: those are systems which use your CGM data to dynamically adjust your pump's delivery of insulin. These are not the mythical complete "artificial pancreas" replacement, but they do add a lot of automation to help you manage your diabetes. For information about the open protocol closed-loop systems, see my separate page on the Australian options.
---
The hurdles for pumps to be sold in Australia
For new pumps to be available in Australia, the first hurdle they need to pass is registration with the Therapeutic Goods Administration (TGA), after which suppliers are legally allowed to talk about them.
The next hurdle is generally getting listing on the Federal Department of Health's Prostheses List so they're eligible for supply by health insurance. The Prostheses List was last updated in November. The next update is expected in March 2022.
Subsidised pumps available new in Australia
The following pumps are available new. Usually they're bought through private health insurance, where they're classified as prosthetic devices.  Not all private health policies cover 100% of the cost: check with your own insurer as to coverage. But if they cover "insulin pumps" then they'll cover all of these.
---
Accu-Chek Solo
This tubeless patch pump has multiple components, starting with a cannula patch onto which the pump clips. The cannula is 90˚ teflon with two length options. There's a disposable 200U reservoir (which includes the battery for the pump body).
The pump body nominally lasts 4 months. The Aviva Solo handset has an integrated BG meter (although you can enter corrections using a BG value you've retrieved from another meter or CGM). Because the pump body lasts for 4 months, when you buy the pump each year you will receive three bodies. Plus if it's the first year you'll receive a handset.
The Solo has buttons each side, which can be pressed together in patterns to administer simple boluses even without the handset.
Insulin delivery
Hourly basal rates: 0.1-5.0 U/hr in 0.01 increments, 0.1 U/hr increments above that.
Boluses: 0.2 U minimum, 0.05 U increment.
Bolus speed: varies between 1-2.5 U/min.
Consumables
The 9mm and 6mm teflon cannulas, and 200U reservoirs (which contain the battery that powers the pump) are available through NDSS. A dedicated inserter device for the infusion sets is supplied with the pump.
Waterproof?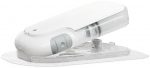 The Solo pump is not waterproof: you are expected to remove it (leaving the cannula patch in place) for swimming and showers. This is primarily because the tiny battery has to use a "zinc-air" chemistry to get enough capacity, and without access to air the battery stops working. There's a small vent on the outside of the pump, that if you covered with tape would kill the pump.
The pump's ingress-protection rating is only IP22!
Closed loop?
Support for the Solo is on the cards for the Diabeloop commercial closed-loop system in Europe, but that is not accessible in Australia.
More info
Official info: Accu-Chek
Peer support (via FB): Accuchek Solo Pumpers Australia
---
Tandem t:slim X2
This pump is a small pump with a touchscreen interface. The aluminium case is very robust, and gives it a slight heft in your hand. The internal battery is recharged by USB (typically topped up at least every few days).
Note that Apidra insulin is not compatible with the Tandem reservoirs (it's not officially listed for pump use in Australia, but is sometimes used in other pumps). Apidra fails catastrophically in this pump.
Fiasp is officially not supported in the t:slim either, although some people apparently do use THAT successfully.
Insulin delivery
Basal rates in up to 16 arbitrary blocks (don't have to be hourly): starting at 0.100 U/hr, with 0.001 increments above that.
Bolus speed: varies between 1.43-2.97 U/min.
However, the minimum basal rate is 0.100 U/hr (or 0), and this can cause issues for some paediatric use as this minimum also applies to temporary basal rates. Note that even if your basal rate is 0.6 U/hr, that minimum 0.1 still applies to any temp basal. Thus the lowest TBR you'd be able to apply would be 17%. Not 10%. If your basal rate was 0.3 U/hr you'd only be able to drop to 34%. The t:slim X2 is currently the only pump which limits temp basals like this.
Consumables
The Tandem reservoirs are compatible only with the Tandem t:lock infusion sets. The older reservoirs that could be used with any luer-lock infusion set have been discontinued. The Tandem infusion sets are:
VariSoft 30 (teflon, angled: same as Medtronic Silhouette, Accu-Chek TenderLink)
AutoSoft 30 (teflon, angled)
AutoSoft 90 (teflon: same as Medtronic Mio, YpsoPump Inset)
TruSteel (steel: same as Medtronic Sure-T)
These are all available through NDSS.
Waterproof?
The t:slim X2 is rated as IP67 waterproof, which is not quite as robust as the IPX8 rating of most other current pumps. See this article for a discussion of waterproof ratings. Mind you, the IP67 rating does still allow for short-term immersion in water up to a metre deep.
Note that the rubber door that covers the USB port is not actually part of the waterproofing: don't panic if it doesn't close or breaks off.
Tandem updates
A touted feature of this pump is the ability to update its firmware at home via USB without having to have the whole pump replaced/serviced, and this has already been used to add features to the pump at no direct cost during its 4-year warranty period. Yes, "free" upgrades (although there may be costs involved in getting doctors to sign off on it).
Apart from any minor updates, there are three major revisions we're aware of:
1. Dexcom G5
The initial version of the pump acted as a Dexcom G5 CGM receiver. This seems to be the version that resulted in the December 2020-April 2021 suspension of its TGA registration. This version is no longer available new. And once you update your pump to a later version, you cannot go back.

2. Basal-IQ
This version changed the CGM to use the Dexcom G6, and won't connect to G5. It uses this to not just auto-populate the bolus advisor as with G5, but also to implement low-glucose suspend.
This is the version of the firmware currently supplied with the t:slim X2. It was released in the US in August 2018, so there's a lot of user experience with it online already. The firmware was updated apparently in response to the 2020/2021 TGA suspension.
Basal-IQ suspends basal deliveries if your BG is below 3.9 mmol/L, or predicted to go below 4.4 mmol/L within 30 minutes, and should resume when it knows you're coming back up.  If it's been suspended for 2 hours then it will resume for 30 minutes. Its predictions of where your BG is going are based only on the CGM data (not including carb or insulin information).
Do note that if it suspends basal deliveries it also cancels any current extended bolus. Temporary basal rates can be used instead (they resume) although you need to manually disable them when you no longer need them (extended boluses stop after a specified time).
The current TGA approval for the t:slim X2 specifies that for a pump to be supplied:
The hardware must have a manufacturing date of 1st August 2020 or later
The software must be Basal-IQ 6.4.1 or above (which was an update to address the 2020-2021 suspension).
The registration is under extra scrutiny for adverse events until the end of March 2022.
3. Control-IQ
This is the next version, that at the time of writing isn't quite here yet. It made it onto the Prostheses List in late 2020 and while the pump's TGA registration was suspended in early 2021 AMSL went ahead and trained staff and diabetes educators in its use. So we thought we could expect it to be rolled out at some point soon after the suspension was lifted. However the conditions that were placed on the t:slim's TGA registration in March 2021 (described above) do put some doubt on when Control-IQ will be rolled out in Australia.
Control-IQ implements a closed-loop system where the pump not only decreases insulin supply (not the brute-force suspend used by Basal-IQ) if you're heading low, but also increases it if you're running high. It still needs you to manage it, but it does a lot of the moment-to-moment decision making for us. It can also link to the t:connect phone app via Bluetooth, allowing viewing and uploading of pump data (but not yet control of the pump) without getting the pump out of your pocket. That would hopefully become available in Australia at about the same time as Control-IQ.
Control-IQ was released in the US at the end of 2019, so again there's a lot of user experience with it online.
Closed loop?
The t:slim X2 pump is not compatible with any external closed-loop system. Obviously Control-IQ will be its own closed-loop system.
More info
Official info: AMSL Diabetes
Simulator app (for both iOS and Android): in app stores (linked from AMSL).
Peer support (via FB): Tandem TSlim X2 Australia+New Zealand
---
YpsoPump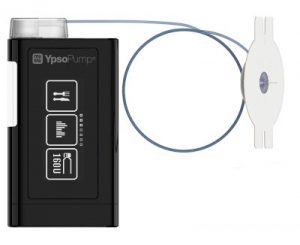 The YpsoPump (from Ypsomed) is a tiny unit which links to the Mylife app on your phone via Bluetooth. Currently the app has a one-way connection: it needs the user to use the pump's touchscreen to issue boluses, but does most of the the rest of the management and connection from the phone (including carb/bolus calculations).
CGM integration
The Mylife app runs on pretty much any iPhone or Android phone. Since November 2021, if your phone is on a shorter list of compatible Android devices (similar to Dexcom's list of supported Android devices) the Mylife app can be used to control the Dexcom G6 CGM (it replaces Dexcom's software). The name for this upgrade has been "Mylife Assist", but it's implemented within the regular "Mylife" app.
This function is expected on iPhones soon, but currently it's Android only.
Having the CGM data integrated into Mylife means that the BG data is available for bolus calculations, and is also uploaded to the Mylife Cloud along with all the pump data. You have the choice to give your clinic access to view your cloud data, at which point you never have to remember to upload your pump before an endocrinologist/DE meeting: the data is incrementally uploaded by the app every day.
Mylife Dose
I'm expecting to see the Mylife Dose upgrade in early 2022 (in Europe the timeframe of "Spring" has been mentioned). This has been pushed out from 2021, probably partly due to delays in the Assist implementation. It will allow us to bolus directly from the app without needing to lay a hand on the pump. To support this in-warranty pumps will be exchanged for versions with new firmware.
Future updates
Ypsomed are also developing the Mylife Loop system in conjunction with TypeZero (now part of Dexcom) and a date of 2023 was mentioned some time back. TypeZero are the company behind the algorithm in Tandem's Control-IQ closed-loop system.
Insulin delivery
Hourly basal rates: 0.02-1.0 U/hr in 0.01 increments. 1.0-2.0 U/hr (0.02 increments), 2.0-5.0 (+0.05), 5-15 U/hr (+0.1), and 0.5 U/hr increments above that.
Boluses: 0.1 U minimum, 0.1 U increment.
Bolus speed: 33.3 U/min.
Consumables
The reservoir holds up to 160U of insulin, and the basal rates can be set to 0.01 U/hr increments in 1-hour blocks. The pump uses three types of infusion set:
Orbit soft (teflon)
Orbit micro (steel)
YpsoPump Inset (same as Medtronic Mio, Tandem AutoSoft 90, and Animas Inset II)
A 2018 article on this site talks about the Orbit infusion sets.
The reservoir is smaller than in some other pumps, although 160U is enough for many people's requirements. But the reservoirs are quick and easy to swap in (without having to replace the infusion set at the same time). So I think the 160U limit is unlikely to be a problem for most people. Plus the reservoirs are glass (unlike the plastic of other pumps) and as such are approved for longer-term insulin storage. The tested and approved use includes the ability to pre-fill reservoirs and keep them in your fridge for up to 4 weeks.
Of the people I have spoken to who have expressed reservations about the 160U reservoirs, it turns out most of them have an idea of "a reservoir change" based on their experiences with other pumps. Procedures where you need to draw insulin out of a vial and into the reservoir, plus often change the infusion set at the same time. The Ypsomed changes are much simpler than that! When using this pump I routinely swap to a new reservoir and be back running in under 2 minutes.
All these consumables are available through NDSS.
Batteries
The YpsoPump uses an Alkaline AAA battery. Lithiums are rejected by the pump (they have a different voltage), but the alkaline cells last about a month and are even supplied by Ypsomed so you don't need to go to the supermarket, so that doesn't seem inconvenient to me.
Waterproof?
The YpsoPump is rated at IPX8. The manual describes "immersion to a depth of 1m for up to 60 minutes", and says that "for water sports that cannot comply with these specifications (e.g. diving)" we should disconnect.
Closed loop?
The YpsoPump cannot currently be used with any external closed-loop system. We will see if that's true after the MyLife Dose update. A version of the pump with special firmware is being used in some clinical trials of looping (including a current one in Melbourne).
More info
Official info: Ypsomed Australia
Simulator app: YpsoPump Explorer (for both iOS and Android).
Peer support (via FB): YpsoPumpers Australia
---
Medtronic 770G
The Medtronic 770G is a development from the earlier 670G. It runs a closed-loop algorithm using the Medtronic CGM to try to control both highs and lows.
The looping algorithm is the same as the 670G, with the same fixed 6.7 mmol/L target. But it can apparently be software-upgradeable to the enhanced algorithms of the 780G pump (see below).
At this point the 780G has only just been announced by Medtronic Australia, and the procedures/costs of the 770G-to-780G upgrade are yet to be clarified.
The 770G does have a few extra features over the 670G, such as:
It has Bluetooth integrated into the pump. This is used to link the pump to your mobile phone (with the CareLink app uploading to Medtronic's cloud servers). No longer do we have to choose to either have the CGM connected to the phone or to the pump. We finally get to see it on both!
The CGM uses the same Guardian3 sensors, but a new transmitter which uses Bluetooth (like the older Guardian Connect transmitters, but not apparently not identical).
The CGM is managed by the pump though, which then reports the results to the phone. This is different to the way the Dexcom CGMs can talk to pump and phone independently. Unfortunately Medtronic does not support displaying the information from the phone app to smartwatches.
The pumps are shipped with Accu-Chek Guide Link BG meters (instead of the older Contour Next Link 2.4) which connect to the pump via Bluetooth. The plain Guide meters (not the Link version) will link to the MySugr app on phones.
Insulin delivery
30-minute basal blocks, in 0.025 increments.
Boluses: 0.025 U minimum, 0.025 U increment.
Bolus speed: 1.5 U/min ("Standard") or 15 U/min ("Quick").
Consumables
The 770G can use either 300U or 180U reservoirs. Although the manuals only mention the 3ml reservoirs, the 1.8ml ones are still available through NDSS (and are required for some of the older Paradigm pumps).
The infusion sets are common across all the Medtronic pumps in this list. The available sets are:
Mio (teflon: same as Tandem AutoSoft 90, YpsoPump Inset)
Sure-T (steel: same as Tandem TruSteel)
Silhouette (teflon, angled: same as Tandem VariSoft 30, Accu-Chek TenderLink)
Quick-set (teflon)
Batteries
The 770G uses an AA battery. Either alkaline, lithium, or at a stretch NiMh rechargeable are supported. The pump does not ask for the battery type.
Note that carbon-zinc batteries (often labelled as "heavy duty") are not supported.
Waterproof?
The 770G is described as coming from the factory as waterproof, able to be underwater to a depth of 3.6m for up to 24 hours. This is still IPX8. It's the same rating as the older 640G and 670G pumps, and in fact the design of the pump body is unchanged.
However the manual does note that the waterproofing can be compromised by bumps/scratches and especially cracks in the pump. Many people over the years have reported their Medtronic pumps drowning due to cracks they hadn't noticed before they got wet. So user beware!
Closed loop?
The 770G cannot be used with any external closed-loop system, but it has its own hybrid closed-loop system built-in.
More info
Official info: Medtronic
Peer support (via Facebook): Medtronic 670g and 770g Support Group Australia
---
Medtronic 780G
This is Medtronic's latest hybrid closed-loop pump. It received TGA approval for supply in Australia in October 2021 (along with at least some components of a new CGM system for it) and was announced in early December. There does not yet seem to be announcements around the new CGM though.
It has been in use in Europe for a while already. It is the same hardware as the 770G pump, but with a more-advanced closed-loop algorithm than the 770G. Features include a BG target adjustable between 5.6-6.7 mmol/L.
The hardware is exactly the same as the 770G, so scroll up for an outline of that.
More info
Official info: Medtronic
Peer support (via Facebook): Medtronic 670g and 770g Support Group Australia
---
Other insulin pumps
That's it for the current Australian pump options, but there are some other pumps around the world which Australian folk keep asking about.
---
Pumps available in Australia
But not through health insurance
If you have some spare cash on hand, you can now get another pump without involving health insurance.
DANA-i
This is the next pump from SOOIL. It has TGA approval for supply in Australia, but has still not reached to the Prostheses List so isn't funded by private health insurance. It can apparently be bought direct though.
It uses the same reservoirs and infusion sets as the DANA RS (outlined below), but uses a standard AAA battery (alkaline or lithium). It is a bit bigger ("chunkier") than the RS pump though. The pump does also have a few technical advances over the RS other than just a new battery, such as a new Bluetooth module with increased range.
In Europe this pump is supported by the commercial CamAPS FX looping system and by Diabeloop. But there's no sign of these systems for Australia yet.
It will probably only be of interest to some people when AndroidAPS 3.0 is released. Do note that it seems to require Bluetooth 5.0 support in phones.
More info
Official info: Managing Diabetes
---
Insulet OmniPod
This tubeless patch pump was launched in Australia in August 2021. It has been used in Europe and the US for years, so there are plenty of user-experience stories online.
Because it is the pump, reservoir, and infusion site all combined into one disposable unit, there are a few differences in operation from traditional pump.
The internal reservoir is filled with a syringe prior to insertion, and it auto-inserts a teflon cannula after application. There are no cannula options: it's a very short 6.5mm cannula at an angle. But the pump can be worn during swimming/showering/etc. If the pump detaches, a replacement pump is required. In fact every 3 days a whole new pump is required: the only permanent piece is the PDM ("Personal Diabetes Manager") handset. Every month a new box of 10 pumps.
This model is completely unlike any other pump on the market, which have a "capital" component of the pump itself (and you buy 4 years of warranty support with it) and a "consumables" component. No compromise funding model has yet been found that would shoehorn the Omnipod into the standard Australian pump funding (that's split between private health insurance covering the "capital" and NDSS covering the "consumables"). We will find out in March 2022 if there's any change in the next Prostheses List update.
There have been two major versions of the Omnipod: "Eros" and "DASH". The difference between these is the computer chip and the radio used to talk to the handheld PDM (and thus what they're compatible with).
Eros pods

The original Eros pumps used 433 MHz radio. These received TGA approval for Australia in 2012, but were never sold here. That TGA approval was dropped in 2020.
DASH pods
The newer pumps instead use Bluetooth to talk to the PDM (which is actually a locked-down Android device). These received TGA approval for Australia in 2020.
How much?
The Omnipod is not supported by health insurance or NDSS, so you're stuck buying them in boxes of 10 for an approximate cost of $40 per pod. At more than $4800 per year, that is a lot more expensive than other pumps. Over 4 years it's on the order of twice as expensive as even buying another pump outright (and including NDSS consumables). But it is something that can be bought on a per-box basis (without committing to 4 years).
Usage
Unlike other pumps (including the Solo patch pump) there are no buttons on the pump itself. The only way to deliver insulin is using the PDM.
Errors occur at times with all pumps. With the OmniPod some can be resolved via the PDM, but some need to you remove the pump. In some error conditions the pump will alarm loudly, and the only recourse is to remove the pump and break the kill-switch panel (which is otherwise against your skin) with a nail/key/pin to silence it.
Insulin delivery
Each pod is filled with 85-200U of insulin, which has to last the 72 hours (3 days). As mentioned, the 6.5mm angled teflon cannula is auto-inserted when you activate the pod.
Up to 24 basal blocks (can be set to 30-minute boundaries) in 0.05 U/hr increments.
Boluses: 0.05 U minimum, 0.05 U increment.
Bolus speed: 1.5 U/min.
Waterproof?
The Omnipod is rated at IP28: down to a depth of 7.6 meters) for up to 60 minutes. You're supposed to be able to shower, swim, etc without having to remove it.
Closed loop?
Officially the pods are only compatible with their PDMs. However…
The Eros pods can be used with external closed-loop systems (Loop and AndroidAPS) using a RileyLink/EmaLink/OrangeLink radio bridge (these replace the PDM). But Eros will never be supplied in Australia.
The DASH is working with beta versions of the upcoming AndroidAPS 3.0 release. I wrote about some of my experiences with it in November.
As well as operating as a standalone pump, the DASH will be used by Insulet's future Omnipod 5 closed-loop (which used to be called Horizon) as well as Tidepool's future commercial closed-loop version of Loop. No sign of either of those for Australia yet (or anywhere in the world in fact).
More info
Official info: Insulet
Peer support (via Facebook): Omnipod Users Australia
---
Other pumps in use in Australia
While not available new, the following pumps are still in use by many people.
Accu-Chek Combo
This pump is a relatively old design, but it has proven itself as a reliable performer over the years. The last of these was sold in September 2021, with warranty and support promised to continue for 4 years.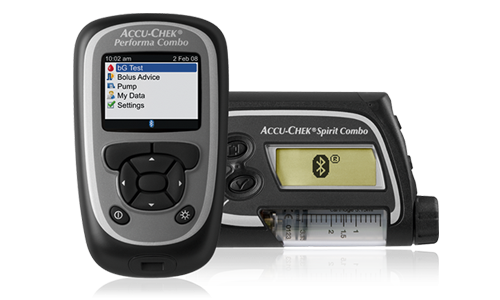 The Combo system is comprised of a "Spirit Combo" pump along with a "Performa Combo" BG meter which is used as a remote control so the pump doesn't have to be brought out of your pocket in normal use.
Mind you, that Performa Combo does insist on a fresh fingerprick for each bolus decision. Although when used with AndroidAPS, the meter is replaced by a Bluetooth connection to your phone so the meter's no longer required.
Insulin delivery
Hourly basal rates: 0.1-1.0 U/hr in 0.01 increments, 1.0-10 U/hr in 0.05 increments, 0.1 U/hr increments above that.
Boluses: 0.1 U minimum, 0.1 U increment.
Bolus speed: 12 U/min.
Consumables
The pump's reservoir can hold up to 315U of insulin. The pump has a luer-lock connection for its infusion sets, so the currently-available (through NDSS) sets it can be used with are:
Accu-Chek FlexLink (teflon)
Accu-Chek Rapid-D (steel)
Accu-Chek TenderLink (teflon, angled)
Medtronic Silhouette (only 17mm version, but same as TenderLink)
Medtronic Sure-T (steel)
Medtronic Quick-set (teflon)
Orbit soft (teflon), micro (steel)
Cleo 90 (teflon)
Batteries
The Combo uses an AA battery. Either alkaline, lithium, or NiMh rechargeable are supported. After a new battery is inserted the pump asks for the battery type so it can calibrate the "low battery" indicator.
Waterproof?
The Spirit Combo has an IPX8 waterproof rating. Some people do take it swimming, although the manual's official advice is quite conservative:
Avoid contact with water. Check daily that your Accu-Chek Spirit Combo insulin pump is not chipped, cracked or damaged in any way, and that the battery cover and the adapter are correctly closed. If the pump is chipped or cracked, water, dust, insulin, or other substances may enter your pump and lead to malfunction. Before any contact with water, disconnect and take off your pump.

Disconnect and remove your pump before taking a bath, or going into a whirlpool, shower, or swimming pool. Avoid exposing your pump to high humidity, such as in a sauna, as this could result in damage.
I have spent years using the Combo. It's been a very reliable pump for me. I've always taken the cautious line that I take the pump off before I head into water, but have faith that it will probably survive if I fall overboard when working around water.
Closed loop?
The Combo can be used with the AndroidAPS closed-loop system. This is not actively supported by Accu-Chek, but I suspect that from 2018-2021 most of Accu-Chek's sales in Australia were due to this compatibility.
More info
Official info: Accu-Chek
Peer support (via FB): AndroidAPS users, AussieLooping
---
Medtronic 670G
The 670G pump was Medtronic's first closed-loop system. The pump acts as the receiver for the Guardian3 Link CGM, which it needs for the closed-loop functionality.
The pump is supplied with the same linked BG meter as the 640G. The meter, pump, and CGM sensors communicate via a radio protocol which is not Bluetooth.
The Guardian3 CGM has sensors that last for 7 days, and require calibration within every 12 hours.
Insulin delivery characteristics are the same as for the 770G.
Consumables
The reservoir, infusion sets, and battery are the same as the 770G/670G/etc.
Closed loop?
The 670G cannot be used with any external closed-loop system, but it has its own hybrid closed-loop system built-in.
With its CGM the 670G is able to have the same SmartGuard function as the 640G, as well as having "auto mode" which is their closed-loop system. Note that it is a first-generation looping system and lacks many of the configuration options and features of the open protocol loop systems (such as the inability to customise the target BG level) although it is approved by the regulators and available without you having to assemble it yourself.
More info
Peer support (via Facebook): Medtronic 670g and 770g Support Group Australia
---
Medtronic 640G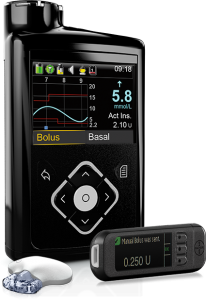 This pump originally integrated with Medtronic's Guardian2 Link CGM, but also supports the Guardian3 Link that was introduced with the 670G.
However, it's mainly used these days without CGM. And even for people not planning to pay for CGM Medtronic seems to be pushing everyone towards the 770G (which without CGM doesn't seem to have much real difference to the 640G). But I gather the 640G might still be supplied in some circumstances.
If a 640G does have CGM connected, it can use that data for "SmartGuard" which is their predictive-low-glucose-suspend (sometimes referred to as a "hypo minimiser").
The pump is supplied with a "Contour Next Link 2.4" BG meter, which links wirelessly (not using Bluetooth) to the pump.
Consumables
The reservoir, infusion sets, and battery are the same as the 780G/770G/670G/etc.
Waterproof?
The 640G has the same waterproofing as the 780H/770G/670G/etc.
Closed loop?
The 640G is not compatible with any closed-loop system.
More info
Official info: Medtronic
---
Medtronic Paradigm
These were Medtronic's earlier generation of pumps. The consumables (reservoirs and infusion sets) are still used with the current 770G.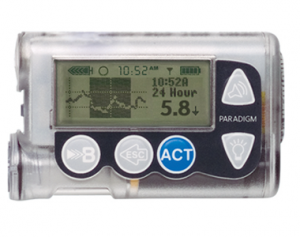 The "Veo" 554 and 754 pumps were the last versions of these, but the earlier 522, 515, 722, and 715 look very similar.
The reservoir in the 554 can hold up to 180U of insulin, and the 754 can hold up to 300U (or use the 180U option).
The Veo pumps support Medtronic's old "Enlite" CGM system (uses the same sensors as the Guardian2 CGM, but a different "MiniLink" transmitter) and they have a primitive low-glucose-suspend function (which suspends when you get to the boundary point, not when the pump predicts you're soon going to get there).
These pumps were originally rated with IP67 dust/waterproofing, but especially given their age I would not regard any of them as waterproof today.
Insulin delivery
30-minute basal blocks, in 0.025 increments.
Boluses: 0.025 U minimum, 0.025 U increment.
Bolus speed: 1.5 U/min. The "Veo" models halve that speed for boluses <1 U.
Consumables
The reservoir and infusion sets are the same as the Medtronic 770G/etc, and are available through NDSS.
Batteries
Officially the only batteries supported were alkaline AAAs. The on-screen battery-level indicator is calibrated for these. However many loopers are using lithium AAAs which last a lot longer (but if you rely on the LCD battery indicator drop from full to empty very quickly, which I think is why Medtronic originally said these were not supported). The looping software has its own recalibrated indicator. I personally used lithium AAAs in these pumps for a long time.
Closed loop?
The latest firmware versions of these pumps are not compatible with any external closed-loop systems. Older versions with firmware up to 2.7A are "loopable" and work with all three opensource closed-loop systems (OpenAPS, Loop, and AndroidAPS).
The 512/712 models are only compatible with OpenAPS and AndroidAPS (not Loop), but the Paradigm 515/522/554 and 715/722/754 models work with all three.
---
DANA R and RS
The DANA R and RS pumps look almost identical. The main differences are the R's use of Bluetooth 2 rather than the lower-power Bluetooth LE of the RS, and a correspondingly-worse battery life (approximately a third of the lifespan). The pumps have a 300U insulin reservoir.
The supplier (Managing Diabetes) ceased sales of the RS (apparently largely due to their exhorbitant costs for importing the special Lithium batteries in today's economy) but is still supporting current users with consumables via NDSS.
Insulin delivery
Hourly basal blocks: minimum 0.04 U/hr, with 0.01 increments.
Boluses: 0.05 U minimum, 0.05 U increment.
Bolus speeds. R: 5 U/min. RS: 4, 2, or 1 U/min.
Consumables
For a long time the DANA pumps have mainly been used with the Soft Release O infusion sets. These were made by Ypsomed and equivalent to the Orbit Soft set. The Orbit micro steel cannulae (available on NDSS without tubing) can be used with the DANA tubing if you needed to use those. However the Soft Release O has been discontinued, and although it is still on the NDSS IPC list (last updated in October) it seems hard to find. However if you have any Soft O Release tubing, this can be used with all the Orbit cannula versions available from Ypsomed (through NDSS).
But in 2021 several new infusion sets were added to NDSS:
The "DANA Inset II", which has a DANA connector but is otherwise identical to the Medtronic Mio, Tandem AutoSoft 90, Animas Inset II, and YpsoPump Inset.
The "Easy Release", which is a super-fine steel cannula available in 4.5mm and 7mm lengths). 4.5mm is even shorter than the Orbit micro's 5.5mm (other models only go down to 6mm) and apparently infusion is very effective (as long as you don't use large insulin volumes).
Batteries
The special batteries for the pump are still supplied in each box of reservoirs.
Closed loop?
Both the R and RS pumps are compatible with the AndroidAPS closed-loop system.
---
V-Go: a non-T1D pump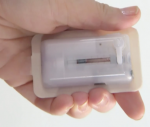 The V-Go is available in Australia, but is designed for use in Type 2 diabetes, not Type 1. It is a simple mechanical (spring-driven) device for 1-per-day use, with a fixed infusion rate. I have previously written about the V-Go.
---
That's it for now
But I'm sure this page will get updated again in the coming months…