We have already seen reports in Australian peer-support communities of dramatic pump failures when Apidra insulin is used in the Tandem t:slim X2!
A few people who have previously been successfully using Apidra in their pumps have been upgraded to the Tandem t:slim X2 (either through Vibe upgrades or through new purchases) and then found that the pump silently occludes within a day.
Symptoms have included hours of no insulin delivery, without occlusion alarms.
This has reportedly had severe health impacts in some cases.
But remember, the official position is that the use of Apidra in a pump is not indicated or supported within Australia. So no part of the system needs to warn you that it won't work: you're not "supposed" to be using Apidra in a pump anyway.
That's despite the fact that there is a population of pump users in Australia who successfully use Apidra via "off-label" prescription by their endocrinologist. For some it's the only insulin they can use due to allergy issues.
I trialled Apidra in Medtronic and Accu-Chek pumps earlier this year (to investigate its different activity profile) although I've gone back to using Humalog.
Back in July when it seemed apparent that the Tandem t:slim X2 pump would come to Australia, I mentioned that the use of Apidra in this pump was problematic (based on user feedback from the US). It seems that this has proven true here too.
What's different with the Tandem?
It seems Apidra isn't labelled for pump use due to the frequency of occlusions in infusion sets during Australian clinical trials, and is only labelled for injection use. Some people describe it has the insulin "crystallising" in the tubing, but that may be a simplification.
However many people in the US (and possibly Europe and other places) successfully use Apidra in pumps. At least pumps with traditional "piston"-style reservoirs.
In the US the FDA label for Apidra says the reservoir should be replaced every 2 days, and when I used Apidra for two months this year (including during my trip to Africa) I replaced the reservoir every 2 days (although I used infusion sets for 3 days). I did not encounter any occlusion problems. But I wasn't using a Tandem pump.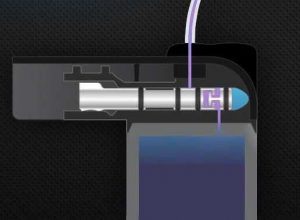 A significant difference between the t:slim X2 and other pumps is its "micro-delivery" mechanism, which shuttles tiny parcels  of insulin from the bladder reservoir to the infusion set. Amongst other advantages, this allows the pump to vary infusion rates in increments as small as 0.001 U/hr (yes, that's a thousandth of a unit). This pump mechanism is contained in the end of the reservoir.
My own hypothesis is that the tiny chamber inside the mechanism might be where Apidra is "crystallising" or otherwise causing a blockage, and this might be interfering with the pump's occlusion-detection (given that occlusion typically occurs at the cannula or in the tubing, not in the pump itself). However I am not a Tandem engineer with complete understanding of the issues involved, so it's just a hypothesis.
Conclusion
I WOULD NOT ATTEMPT TO USE APIDRA IN A t:slim PUMP!
If I was not able to move from Apidra to either Humalog or NovoRapid, I would not purchase a t:slim X2.
Unfortunately, there doesn't seem to be a way around this at the moment.
AMSL (the Australian Tandem distributor) is apparently aware of the issue now, but I'll be surprised if they have any solutions other than "don't use Apidra".