CGM (Continuous Glucose Monitoring) systems are one of today's most effective tools to help manage diabetes (especially T1D). Thousands of people rely on it to help keep them alive. And yet the costs have just suddenly skyrocketed!
The official starting position
For a long time AMSL (the distributor of Dexcom CGMs in Australia) had a stranglehold on the supply of these, and didn't budge on retail pricing. G5 sensors (which are rated for 7 days' use) cost $92.50 each, which is over $3500/year (the annual $2100+ transmitter cost plus incidentals was on top of that).
This was out of reach for most people.
Cheaper CGM!
Back in 2019 we highlighted how Dexcom CGM equipment was available through pharmacies for lower prices. Prices varied a bit, but were often less than $60/sensor. New transmitters were available at about 50% of AMSL's price!
That brought things into a price range that more people could access this life-changing (and life-saving) technology, even if they still had to struggle to afford it.
This wasn't breaking any rules, "cheating", or illegal in any way. It was just representative of the price AMSL was charging the government for the equipment, rather than the price they'd been able to get away with for so long due to a single sales channel.
It's all changed
Last December it seemed that some of the pharmacy distributors had put up their pricing, and this led to panic in the community that pharmacies had put the prices up. In the end those prices dropped within days to be close to the cheaper prices, and things settled fown.
Now the pharmacies have "buy" prices that are more expensive than if we buy from AMSL. To buy a box of sensors (which for ages has cost ~$260) now costs around $440! Suddenly, the price has jumped. My pharmacy reports that this price hike is across all of the wholesalers they can use (last December only some moved temporarily).
AMSL have steadfastly kept their prices unchanged through all of this, and now they have ended up as the "cheapest" option.
Even when "cheap" is "too expensive for most people"!
This is shameful!
It's not as though the new higher prices that the pharmacy distributors now have to buy the sensors at (they're coming from AMSL remember) are intended to make anyone money. It definitely seems to be designed to effectively shut down that sales channel. And thus directly harm all those people relying on these devices in maintaining their health and lives!
Shameful!
#CGM4ALL ?
This would of course be less painful for many of us if the government funded CGM equipment for everyone with T1D instead of just for a minority.
I do feel obliged to refer to the recent petition which got 30951 signatures and should be eventually presented to Federal Parliament.
Newer G6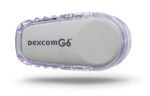 Meanwhile, in the last year AMSL have introduced the G6 CGM system. The architecture of this system is similar in that it is comprised of sensors and transmitters, but some important things changed:
Sensors now are supposed to last 10 days instead of 7.
Boxes of sensors have three devices now instead of four.
30 days (3 * 10) instead of 28 days (4 * 7) makes sense.
AMSL's price for G6 is currently $330/box.
Compared to their $370/box price for G5, that seems a smidgeon cheaper according to the label. But in the real world it's more expensive.
Many people find the G5 sensors actually last a lot longer than 7 days. 2-3 weeks (and even longer) are not unusual, while still maintaining accurate results. We do this to be able to afford CGM.
Many people find G6 sensors do NOT last that long. So the G6 sensors end up costing more per day.
The G6 transmitters have so far been impossible to extend past their 100-day limit (which was already slightly shorter than the G5's limit before those are extended). So the effective cost of G6 transmitters has been significantly higher than G5. That's on top of the sensor pricing I've been talking about.
The cost at labelled use of G6 is still $77/week (just for sensors!). A little cheaper than the current $92.50/week of the G5, but still a lot more than the <$60/week of the G5, and in real-world use more expensive than both!
Where to from here?
Sensors are a fundamental component of CGM technology, but there are no alternate sources. There is of course work underway to improve the functionality and cost of transmitters, but that's a separate issue. We're stuck having to purchase sensors from AMSL for a price that we have been shown over the last few years to be inflated!
It feels like all we can do at the moment is wail and gnash our teeth. And either magically find more money to be able to afford this life-preserving technology, or crawl into our burrows and suffer impaired health.
SHAMEFUL
Talking to our elected representatives seems like a good start.
Note that the life-changing closed-loop results I wrote about yesterday are only possible with CGM. If we can afford it!