Insulin pumps are life-sustaining devices that we live with 24 hours a day, so we become quite invested in them. We all live different lives, and our needs (and tastes) in insulin pumps vary.
With this week's announcement that Animas has shut down in the US/Canada, there are obvious clouds on the horizon for Australian users of the Animas Vibe pump. While the Australian distributor has issued a statement that Australian supplies will not be affected, it does feed questions in users' minds as to what the future options will be.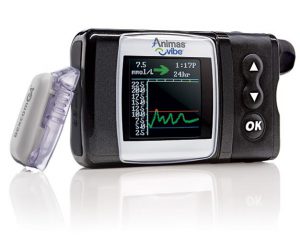 Mind you, the Animas announcement wasn't entirely unexpected. I started using an Animas 2020 pump nearly eight years ago, and my current Vibe's 4-year warranty will expire in February 2018. In December 2016 (almost a year ago) Animas received FDA (US) and Canadian approvals for its next-generation Vibe Plus pump, which was to be the first integrated with Dexcom's G5 CGM system (the Vibe can act as a receiver for the earlier G4). We expected the Vibe Plus to be introduced in the US in fairly short order, and hopefully make its way to Australia some time after that. But nothing happened. No announcements, just no new product. Then in January 2017 Johnson & Johnson (the parent company of Animas) made an announcement that it was "evaluating strategic options" for its diabetes care brands. Nothing more, but the writing was obviously on the wall….
Pump choice in Australia
As of October 2017, there are only a few options for new insulin pumps in Australia: the Animas Vibe, the Medtronic 640G, and Roche's Accu-Chek Spirit Combo. DANA's DANA R pump is used by only a few people in Australia, but we're hoping there's Australian news about their new DANA RS pump by the end of the year. Cellnovo's Australian introduction of their pump has been delayed until November, and Medtronic are currently still tied up in Australian trials of its latest 670G pump. Outside Australia there are some other pumps available and more new products being developed. But if and when we see those here is always a big question.
Medtronic are the largest supplier of pumps, but variety and choice is important (and some of us dislike aspects of Medtronic's current products). The Animas Vibe is still available in Australia, and will be supported for years to come. Some people will be happy to buy new Vibes, but some people will look elsewhere. Medtronic will presumably pick up many of these customers (in the US Medtronic is taking over warranty service for Animas, and migrating users to Medtronic pumps).
AMSL (the Australian Animas distributor) is also the distributor of the Dexcom G4 and G5 CGMs, so it's not as though their business will completely dry up. It would be great if they can bring Tandem's t:slim X2 pump to Australia as a new pump option: as it's the first pump that actually brought Dexcom G5 integration to market, I'm sure they have incentive to do that. Of course, bringing a new pump to Australia does involve the TGA regulatory approvals process so it's not quite as simple as shipping in and selling some devices. But I hope it happens.
Outside Australia there's also the OmniPod, Beta Bionics is doing interesting product development, and Bigfoot Biomedical is another player we're watching carefully. I'm sure there are others too.
Accu-Chek Spirit Combo
Meanwhile I think Roche have a great opportunity here to push further sales of their Accu-Chek Spirit Combo pump.
I have had the opportunity to use a variety of pumps over the years: the Animas 2020 and Vibe, the Medtronic 522 and 554, and the Spirit Combo. I have also experimented with the Medtronic 640G. Out of those I think my least-favourite is the 640G, but my favourite is the Spirit Combo. The 640G does integrate with Medtronic's CGM and offer "SmartGuard" (Predictive Low-Glucose Suspend), although my opinion is that both the Dexcom and Libre CGM solutions are technically superior.
My Vibe warranty will expire in February, and if I had to choose a new pump today it would probably be the Spirit Combo.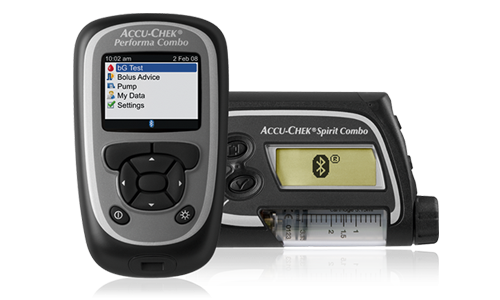 Like the other non-Animas pump options the menu system is different, but I find it's fairly clearly laid out and easy to get your head around.
Physically the pump is about the same size as the Vibe.
As someone with an engineering background, I appreciate the quality of the build of this pump.
The pump has an IPX8 waterproof rating (although the manual sensibly discourages you from using it in the water if there's a chance you might have cracked the case or not sealed the connectors fully). This is similar to the ratings of the Vibe and the 640G. For me, not having to fret about accidentally falling into water or getting splashed is a major concern especially when working around boats.
The pump can use the Animas cannulas (it uses a standard Luer-lock connection). It does have its own reservoirs of course as well as its own selection of cannulas.
The reservoirs can hold over 300 U of insulin. Slightly more than the Medtronic 640G (and more than double the tiny Cellnovo pump).
The pump has a Bluetooth-linked remote control (which is also a BG meter). The pump can be used without this, but with the remote you have the freedom to issue boluses and configure the pump without having to get it out from under your clothing. And for DIY loopers, support for interfacing the pump to loop systems is currently in beta testing so that will hopefully become another option for more people in the coming months.
The pump was introduced into Australia in 2013 so it's not exactly new. In Europe it's sold alongside the Accu-Chek Insight pump (a different design that uses pre-filled cartridges). Incidentally TGA approval for Australian use of the Insight was granted in 2015, but we haven't actually seen that hit the streets here. The Spirit was sold in the US for a while, although Roche pulled the pump out of that market at the start of 2017.
I'm sure the Spirit Combo won't suit everyone, but that's the point. There's no one-size fits all: we need options!
Roll on more options!
We definitely need more pump options than just Medtronic's clunky 600 series. Hopefully we see more options arrive in Australia soon, but in the meantime we do at least have a few choices. We've wanted that for a while, but the clouds over Animas have brought the concerns to the foreground.
I guess I'll see what new pump options there are by the time my Vibe warranty expires next year. If nothing better arrives on the Australian market, maybe Roche will get my money.
This post is not supported or endorsed by Roche in any way. It's just me giving you my feedback on our pump choices in light of my own experiences with these pumps.