It's around the time of year that daylight saving time starts or ends (depending on where you live) and this affects our devices. Think about the diabetes devices we use that use clocks. BG meters, CGMs, phones, pumps. Life is certainly easier when they all agree on the time. And insulin pumps have basal rates programmed to change at particular times of the day, so having those match the time on your watch is usually important!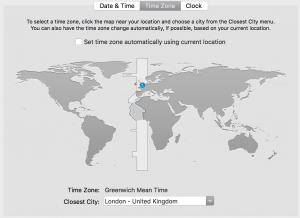 I'm particularly aware of this issue at the moment. Right now I'm in the UK, where Daylight Saving Time will start this coming weekend. At 1am on Sunday the clocks will skip forward an hour. Then later in the week I get on a plane and fly home to Australia, which will involve moving my clocks forward another 10 hours. Then next Sunday DST finishes in Victoria, and at 3am the local clocks will move back one hour.
Whenever DST changes, either before you go to bed or when you get up in the morning you should check the clocks on all your devices. Having one out of the sync with the others will be a pain. Luckily many devices these days use the concept of a timezone (such as Australia/Melbourne or Europe/London) and will automatically update their clocks to account for DST. However it doesn't always work smoothly (especially if the legislators have recently changed the local details of DST!) so it's worth double-checking.
On Sunday my iPhone will update its time automagically, and will then update my Pebble watch. My OpenAPS rig will update its time by itself, and will then update the time in my insulin pump. The Android device which runs my xDrip CGM will update its time, and the next time my BG meter connects to it (via Bluetooth) to upload a reading, its time will get updated too. My laptop will update its time automatically too.
I will still have to change the time in my car, and change the "Summer Time" flag in each of my cameras. At home we'll have to change things like the oven manually. But at least most of my devices now fix themselves!
For people using the Loop (iPhone-based) closed-loop system, they should update the time on their pumps via the app on their phone the next morning. Don't do it on the pump itself.
Special treatment for AndroidAPS with Spirit Combo
For people using AndroidAPS and a Dana pump, the system should update the pump clock. But for those using a Spirit Combo pump with a beta version of AndroidAPS, there's a bug you'll have to work around. At the moment the app checks the time on the pump (and warns if it's wrong) but won't set the time on the pump. This means that at 3am on April the 1st in Melbourne, the app would start giving you alarms that your pump clock was wrong. Not the best time of day for extra alarms!
An easy workaround would be to change the timezone on your Android device to Australia/Queensland before going to sleep. Queensland doesn't observe DST but is otherwise the same as Victoria, New South Wales, and Tasmania, so there'll be no change in the middle of the night. Then in the morning change the timezone back to Australia/Melbourne (or whatever your local zone is) and update the time in the pump before AndroidAPS complains too much.
However if you live in South Australia (which is normally UTC+9.5, but moves to UTC+10.5) it's not so easy as there aren't other matching timezones to use. You could shift your system forward 30 minutes to Queensland time the night before, and then shift forward another 30 minutes back to SA time the next morning. Messy, but better than being woken by unnecessary alarms.
Luckily not many people are using AndroidAPS with the Spirit Combo pump in Australia yet so not many people should be affected.