In a conversation about a recent article about my fully-closed looping a question was posed to me about how my body (and AID system) would react to something like an unannounced fruit juice. My results have to be influenced by my diet to some extent.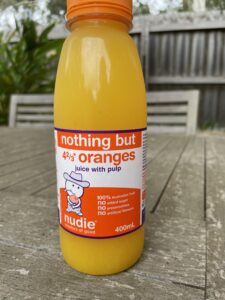 Fruit juice is something I don't consume much of. And if I do, it's usually not in large volumes. But I'm up for a challenge. The suggestion was a 250 mL juice, but while in the supermarket the smallest I could find was this 400 mL juice. So I added it to the trolley.
Like many nutrition panels, this one was a bit of a laugh. It says
"Servings per package: 1.6. Serving size 250 mL".
Somehow they expect people to serve themselves only 5/8th of the bottle, and come back for the rest another time. Who ever manages to do that?
In keeping with the basic adage that the natural number of servings in any food package is an integer (and usually 1) I just drank the lot. According to the nutrition label that would have been 40g of carbs.
Then I got on with my day (specifically, I got in the car to drive to the shops). The results can be seen below in an extract from Nightscout. I recorded a Note event when I had the juice at 16:10, as there wasn't going to be any Carb announcement.
At 16:40 I got out of the car and glanced at my watch: 10 mmol/L, with a delta of 1.7 in the last 5 minutes. The thought "Oh dear, maybe this wasn't a good idea" did go through my head. But I left things alone.
As you can see, the system had already been giving me a string of small boluses as the BG started to climb (as well as increasing the background basal rate) so even at that point there was an appreciable amount of insulin already in play. Also it was Lyumjev, which reaches its peak activity only 45 minutes after injection (unlike for example NovoRapid which takes an additional 30 minutes).
Just before 17:00 the readings peaked at 11.8 and started coming down again. Just after 18:00 it was back in my goal range. The dip to 3.8 just after 20:00 does not concern me at all: it's only just outside the goalposts.
Almost 12 mmol/L is definitely out of my goal range (and in fact the green goal band seen on that graph is 3.9-7.8. But this is not something I would usually consume, and as a once-off I don't think my health suffered at all.
Life goes on
Remember that there was no manual bolus or carb declaration, and I was going about my day as normal. In fact after 18:00 we were over the other side of the city at an orchestral performance. And by 20:00 we were running through the rain to get to dinner. Life goes on as normal, unencumbered by insulin calculations!