This week NDSS published (early) the new October consumables lists. Officially there were two updates:
A new 4mm-long 32G needle from Unifine.
The reservoirs for the Tandem t:slim X2 pump.
The Tandem pumps have been rolling out in the last few weeks, and users will be happy to know they can now get the reservoirs through the regular NDSS channels.
A clerical error?
The Insulin Pump Consumables list is dated "24.09.2018", but there's another change that wasn't mentioned in the NDSS update notification.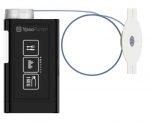 Somehow all the reservoirs and infusion sets for the Ypsopump have disappeared! This is obviously an error for a pump that's in-use by lots of people out there. Supplies have to remain available for years even if a pump was taken off the market (e.g. even reservoirs for the old Deltec Cozmo are still on the list).
I don't think Ypsopump users have anything to worry about, and we should see a correction by NDSS early next week.
EDIT: This error was fixed in an NDSS update on the 1st of October.
No glucose testing update yet
Note that although the BG testing strips list was updated in early September, no significant change seems to have been made there. We're still expecting that to have an overhaul when the outcome of the 2018 tendering process is announced in "Q4" 2018. So any time from now til the end of the year (unless it gets delayed again). That includes any news about possible Libre subsidy.