In my recent "Pancreas phone" options post I listed some of the small Android phones people have been using for diabetes management lately. This post is a brief update on that.
Cubot KingKong Mini 3
I mentioned the KingKong Mini 3 and Pocket 3 models (which seem to share the same internals, just with the KKM3 favouring rugged over style) with the proviso that they were so new that no-one had experience with them yet. But since then phones started appearing, and I've been putting the KKM3 through its paces. A few observations: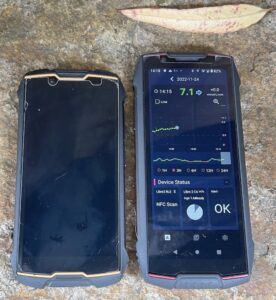 It is a little bigger than the KKM2 and KKM2 Pro, both in thickness and length. Still reasonable though (slightly smaller than my iPhone 12 mini).
In this photo it's beside my old backup KKM2 (which is identical in size to the KKM2 Pro.
The battery life is great. It certainly lasts into a second day.
The phone has NFC, and unlike the earlier Cubot Pocket this one will talk to Libre sensors. Using the regular LibreLink app from the Play Store, it initialises and communicates with both Libre 1 and Libre 2 sensors. Right now I have Diabox on the phone tracking a Libre 2 sensor via Bluetooth. It's interesting to compare the results with my G6 sensors, but I don't think I'm tempted to move.
Soyes S10 Max
A comment on that last post was from someone using this even-smaller phone. It seems decently small, and also claims to be waterproof. I don't have any direct experience with it, but note two things:
It's currently more expensive than the Cubot options.
It uses Android 10, which is what the KKM2 from 2020 used. It is still a decent version (although I find there were some significant Bluetooth improvements in Android 11).
But it may interest some people.
Which is my favourite?
I like my devices to be "life-proof", and my life sometimes involves rainstorms and watersports, so that narrows the choices a bit. If I was shopping today for a small rugged device to run my CGM and closed-loop system I would probably get either the KingKong Mini 2 Pro or the KingKong Mini 3.
Apart from differences in price (which can change as deals come and go) I see the main differences as:
KKM2 Pro runs Android 11 and is physically smaller.
KKM3 runs Android 12 and can use Libre sensors (for what that's worth).
The older KKM2 and the Pocket are both decent phones, although neither is waterproof and the KKM2 runs the older Android 10 (and has Bluetooth 4 instead of 5, which seems to cause issues communicating with the DANA-i pump if that's relevant).