Last week I wrote about my favourite BG meters, and briefly described the two blood glucose meters I use as my standard tools. One is the Accu-Chek Guide, and the other is the Contour Next One. I pointed out that I'd had to obtain my Contour Next One meters from Germany and the US because it hasn't been released in Australia. Now that's changed!
This week in Adelaide at their Diabetes Social Media Summit, Ascensia introduced the Contour Next One meter. There was a bit of #OzDSMS chatter on Twitter during the summit.
I'm already familiar with the meter, but as of now it's officially supplied and supported here.
Who is Ascensia?

Many of us are familiar with other Contour Next meters, particularly the Contour Next Link meters bundled with Medtronic insulin pumps. These have carried the Bayer brand, and the Contour Next BG strips still mention Bayer on the box. But after a corporate merger in 2016 Bayer was re-branded as Ascensia. The Bayer name has hung around in Australia for a while, but that is changing now.
Contour Next One
To recap, this is a very nice blood glucose meter. My major bullet points are:
Uses the Contour Next strips, which are renowned for accuracy. They performed well in my own Do you trust your meter? testing. According to Ascensia's own testing and design, the accuracy in this meter is slightly improved over even the other Contour Next meters!
Has Bluetooth to upload results to the Contour Diabetes phone app. The meter is also supported by apps such as xDrip+.
Has a white LED port light to help with late-night testing. To access this, double-tap the meter button before inserting the strip (this is not in the manual for some reason!).
Slim design. It's a similar shape to the Contour Next Link meters, although lighter as it doesn't have an internal rechargeable battery (it uses two CR2032 cells instead).
For a long time the Contour Next meters have provided "second-chance sampling", letting you top up the blood sample within 30 seconds. The Next One extends this, giving you 60 seconds.
Mind you, the amount of blood these strips need is so small that I have never needed to use this function.
Other than those features, it's a blood glucose meter like most others. But those features do help distinguish it from others on the market.
Do note that this meter does NOT link with Medtronic insulin pumps. That's the "Contour Next LINK" family of meters.
Its main negative for me is that the strips still come in round tubs, which greatly increase the space it will take up in your pocket. The Accu-Chek Guide's strip containers are a lot better in this regard. But this isn't a killer problem.
The app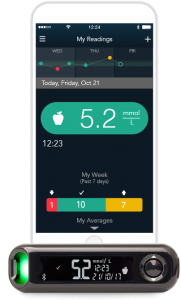 The missing piece for my own use of this meter has been the lack of the Contour Diabetes app in the Apple and Android app stores. It finally appeared in the stores today! This is not a review of the app, just a quick run-down of features.
The app allows you to customise some features of the meter. Without the app you can set the time in the meter, but the app gives you a bit more control.
Traffic lights
By default the end of the meter lights up according to the BG result: red (hypo), green (in range), or yellow (hyper). Once you link the meter to a phone you can use the Contour Diabetes app to reprogram the boundaries of these (by default 3.9 and 10 mmol/l) or you can disable this "smart light" function.
Functions like this are often criticised (fairly, I think) for being unnecessary harassment. Living with diabetes is enough of a challenge that we don't need to feel "judged" by our BG meter. If our readings are high, we typically know they're high.
But some people like the simplification, and that's great too. We have a choice: the lights can be disabled on this meter via the app.
Managing your data
Results are transferred into the app, and uploaded into your account in the "Contour Cloud" where you have the option of sharing it with your doctor, and functions are being added to also transfer it into other cloud systems. But even without that it gives you a lot of tools for managing and analysing your data.
The Contour Diabetes app does not currently push BG data into HealthKit on Apple phones, but I'm told this function is coming in an update soon.
When you do a test on the meter you can mark it with things like "mealtime", but once it's in the app you can annotate with notes and photos. I rarely remember to use appropriate markers at the time I do a test, but I can easily go back and annotate recent results.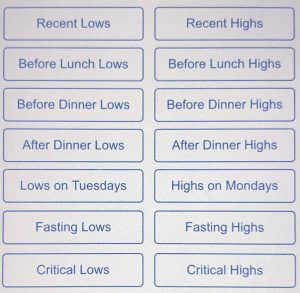 The app has some pattern recognition you can enable, which gives you feedback and advice.
With the patterns enabled, if the system detects something matching it will offer suggestions with guided questions and then enabling later reminders. I was impressed at how non-intrusive it is, guiding you with questions and sensible suggestions.
I'm not likely to use this myself (as my own use pattern for BG meters is only to test for CGM calibrations) but for someone doing most of their glucose monitoring via the meter it looks like a very useful function.
Multiple meters
You can link multiple meters with this app. If you have more than one meter in your house, the app can upload them all and aggregate the data.
You can only pair a meter with one phone though, so if you're in a house with other people with diabetes: make sure you test with your own meters so your data doesn't get confused with theirs when it's uploaded!
Free batteries
The meter uses two CR2032 batteries. You might be surprised to learn that Ascensia will send you fresh batteries when they run out. Ascensia aren't the first company to do this though: Accu-Chek and Abbott also provide batteries (although some of them have limits to how many per year, if your meter needs too many batteries it's possible they should just replace the meter under warranty).
Getting free batteries is a good incentive to actually fill out the warranty registration when you get your new meters!
Where to get one
The meter will of course be supplied free to diabetes educators to distribute to people with diabetes. It will also be supplied (for free) to pharmacies. If do you see a pharmacy charging money for the Contour Next One meter, when you decide whether to pay that cost keep in mind that the pharmacy will have got it for free.
But you don't even need to leave home to get one. Go to www.contournextone.com.au, request one, and it will turn up at home!
Disclaimer
Ascensia Diabetes Care invited me to their Diabetes Social Media Summit event (which included dinner), and provided me with a sample meter and strips. They did not ask for any particular material to be (or not to be) published.
As I've previously written, my opinions of the Contour Next One meter are based on my own personal experiences with it over the last year. I'm very glad that more Australians now have the opportunity to use the meter and form their own opinions!