NOTE: this article was superceded in November 2018. Please check out the updated article!
It's time for another update as to the insulin pumps on the Australian scene! There have been a few developments lately, with new pumps introduced along with updates to the Health Department's Prostheses List.
This article is our latest summary of all the pump options.
---
Pumps currently available
Tandem t:slim X2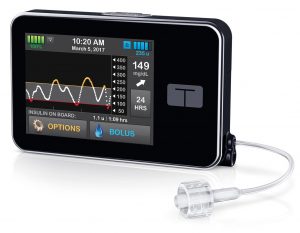 The t:slim X2 was launched in Australia by AMSL last week, and will be hitting the streets soon. It's a small pump with a touchscreen interface. The aluminium case is very robust, and gives it a slight heft in your hand. The internal battery is recharged by USB (typically topped up daily).
The insulin reservoir can hold up to 300U. The basal rate can be set with an increment of 0.001 U/hr (no, that's not a typo) in 16 arbitrary time blocks. The pump is initially being supplied with reservoirs that have a luer-lock connection for the infusion sets. Thus they can be used with the same Unomedical infusion sets used with the older Animas pumps (along with the Accu-Chek sets for the Combo pump described below) along with the Cleo 90 set.
At some point in the future new reservoirs and infusion sets using Tandem's new t:lock connector (which has less "dead space" than luer-lock connectors) will be introduced (the sets are made by Unomedical, and will match the existing Inset, Comfort, and Contact sets).
A feature of this pump is the ability to update its firmware at home via USB without having to have the whole pump replaced/serviced, and this will be used to add features to the pump during its 4-year warranty period. Initially the pump can act as a Dexcom G5 CGM receiver. When the Dexcom G6 is introduced to Australia (probably at the end of 2018) a firmware update will be released to add G6 support, and at the same time include the "Basal-IQ" low-glucose-suspend function. This suspends and resumes basal insulin as required to keep your BG above 4.4 mmol/l. It was released to US users in August 2018, and is receiving a lot of positive feedback.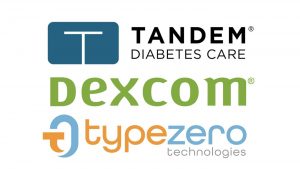 Tandem are currently testing the subsequent "Control-IQ" firmware update, which is their closed-loop pump control system, working to keep your BG in range all the time. Many people are understandably excited about this. Do note that even when that trial completes in 2019 there will be a lot of work still to be done to get it through the US and Australian regulators and bring it to market. Tandem have indicated it might be a year from now, and we'll have to wait to see how good that estimate is.
AMSL have stated that the Basal-IQ/G6 update will be free (although users need to go through additional training and have medical signoff to receive the update). We will have to see what happens with Control-IQ in a year's time.
The t:slim X2 is rated as IP67 waterproof, which is not quite as robust as the IPX8 rating of some other pumps. See this article for a discussion of waterproof ratings. Although the pump is not rated quite as "proof" as an Animas Vibe, the IP67 rating does still allow for short-term immersion in water up to a metre deep.
The Tandem pumps are not currently compatible with any open protocol closed-loop technology. It is expected to link with phones in the future when Tandem release their t:connect app. Possibly in 2019, but we'll have to see what happens there.
Accu-Chek Spirit Combo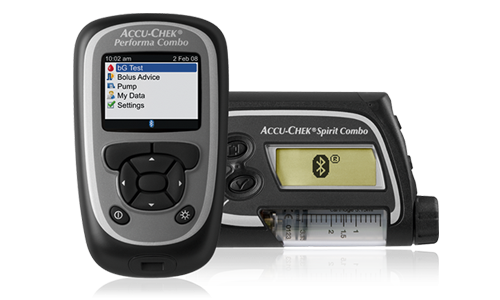 This pump from Roche is supplied with a Performa Combo BG meter, which is used as a remote control so the pump doesn't have to be brought out of your pocket in normal use.
The Spirit can hold up to 315U of insulin, and the basal rates can be set to 0.01 U/hr increments in 1-hour blocks.
The pump has a luer-lock connection for its infusion sets, so it can be used with any of the Roche/Accu-Chek sets along with the Unomedical (Animas/Tandem) infusion sets and Cleo 90.
The Spirit Combo IS compatible with AndroidAPS (on select Android phones) for closed-loop operations. In this mode the linked meter is replaced by the Android phone.
Medtronic 640G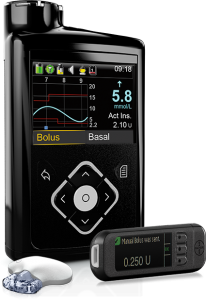 Medtronic have their 640G pump with integrated CGM ("Guardian 2"). This pump has "SmartGuard" which is their predictive-low-glucose-suspend (sometimes referred to as a "hypo minimiser") although this function is dependent on keeping the CGM calibrated and accurate.
The pump is supplied with a linked "Contour Next Link 2.4" BG meter. The meter, pump, and CGM sensors communicate via a radio protocol which is not Bluetooth.
The 640G is NOT currently compatible with any open protocol closed-loop technology.
The reservoir in the 640G can hold up to 300U of insulin, and the basal rates can be set to 0.025 U/hr increments in 30-minute blocks. The pump uses the same reservoirs and infusion sets as all the other Medtronic pumps in this list.
Medtronic 670G
This is the follow-on to the 640G. It is the first commercial closed-loop pump system, and is not currently compatible with open protocol closed-loop systems. It has its own internal closed-loop, which will adjust the insulin flow up and down to try to keep your BG levels within a target range.
The 670G uses the same BG meter as the 640G, but its CGM transmitters (and sensors) are not compatible with the 640G (and the 640G's CGM can not be used with the 670G).
The 670G is currently in limbo. It has been approved by the TGA so Medtronic can advertise it to customers (as of last week) and it is now on the Prostheses List so private health insurance will pay for the pump, but the new CGM sensor it requires is not yet TGA-approved. Without a CGM the pump can't enter its "auto mode" closed-loop function, and is similar to a 640G without CGM.
As such Medtronic is not yet selling the 670G, instead continuing to sell the 640G with a promise of a later upgrade. We do not yet know when the 670G's CGM will be approved by the TGA, but the wheels of bureaucracy are undoubtedly turning.
Ypsopump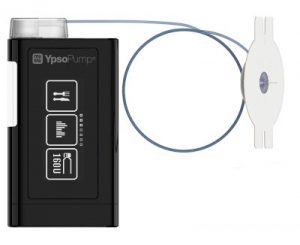 The Ypsopump (from Ypsomed) is a tiny unit which links to the MyLife app on your phone via Bluetooth. Currently the app has a one-way connection: it needs the user to use the pump's touchscreen to issue boluses, but does most of the the rest of the management and connection from the phone (including carb/bolus calculations). An update to the pump has been promised which will give the app full remote control (and probably integrate with a CGM) but we do not yet know a date for this.
The reservoir holds up to 160U of insulin, and the basal rates can be set to 0.01 U/hr increments in 1-hour blocks. The pump uses the Ypsopump-specific Orbit infusion sets (with steel and teflon options).
The Ypsopump is not yet compatible with any open protocol closed-loop systems, although work on this is ongoing. Ypsomed have announced they are supporting the JDRF Open Protocol Initiative, and it's expected that a future update to the pump will be compatible with open protocol closed-loop systems.
Cellnovo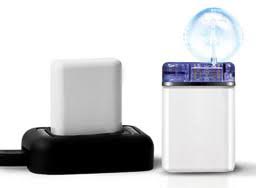 This tiny pump is worn on the body near the infusion site, and can hold up to 150U of insulin (note that when the infusion set is replaced, the reservoir is also discarded). The basal rates can be set to 0.05 U/hr increments, in 1-hour blocks. The cannulae (both steel and teflon options) are the same as those for the Ypsopump's Orbit sets.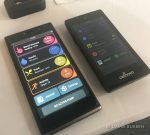 A pair of rechargeable pumps are included, with a remote-control handset, and a tiny recharging base for the pumps. Apparently the existing handsets are soon to be updated to a new slimmer/faster/brighter model (shown here).
The Cellnovo pump is not compatible with any open protocol closed-loop systems.
DANA RS
The DANA RS has just been added to the current Prostheses List, but it's in an unusual position because the supplier (Managing Diabetes) is not currently pursuing sales.
The consumables for the pump are already on NDSS, as older DANA pumps are still being used around the country.
The DANA RS has a 300U insulin reservoir, and basal rates can be set to 0.01 U/hr increments in 1-hour blocks. By default it uses DANA-specific infusion sets (including a teflon one made by Ypsomed and equivalent to the OrbitSoft set). Also standard-luer-lock adapters are apparently available in some countries.
The DANA RS is compatible with AndroidAPS for closed-loop operations. Because health insurers will now fund purchase of this pump (given the addition to the Prostheses List) I'm sure a few people will be interested in purchasing one. All I can suggest is contacting Managing Diabetes to enquire about the sales and support situation.
---
V-Go
The V-Go is an insulin pump being supplied by AMSL, but it's not the same as the other pumps. The V-Go is not intended for management of Type 1 diabetes at all (they're targeting the T2D market). It's only mentioned here for completeness.
A new V-Go pump is filled with rapid-acting insulin every day, stuck to the skin, and the cannula is inserted. The pump feeds a constant basal flow of insulin for 24 hours (either 20U, 30U, or 40U depending on the pump model) and you can apply up to 36U of boluses (in 2U increments over that time). After that a new pump is required.
The V-Go is a completely mechanical device. Again, it's not intended for Type 1 diabetes.
---
Recent pumps
These pumps are still on the Prostheses List, and thus can be bought through private health insurance. But they're generally no longer being sold.
Medtronic Paradigm "Veo" (554 or 754 models)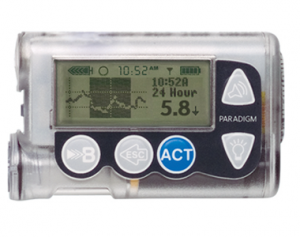 These are Medtronic's previous generation of pumps. Some are still in use.
The reservoir in the 554 can hold up to 180U of insulin, and the 754 can hold up to 300U. The basal rates can be set to 0.025 U/hr increments to 30-minute boundaries. The pumps use the same reservoirs and infusion sets as all the other Medtronic pumps in this list (although the 554 pump is restricted to the 1.8 ml reservoirs).
The pumps support Medtronic's old "Enlite" CGM system (uses the same sensors as the 640G's "Guardian/Enlite 2", but a different transmitter) and they have a primitive low-glucose-suspend function (which suspends when you get to the boundary point, not when the pump predicts you're soon going to get there). The 640G's CGM was a significant improvement on this.
The current firmware versions of these pumps are not compatible with any open protocol closed-loop systems. I have looped with OpenAPS and a 554 with firmware 2.6A (up to 2.7A is compatible) but Medtronic will not supply any of those to customers. Many other older Paradigm models are loop-compatible.
Animas Vibe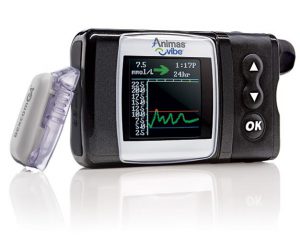 This pump was discontinued by Animas at the start of 2018, but many of them are still in use. Current users are being migrated by AMSL to the Tandem t:slim X2 pump.
The Vibe is a nice reliable and basic pump: I used one for many years. The reservoir can hold up to 200U, and the basal rates can be set to 0.025 U/hr increments to 30-minute boundaries. The pump can act as a CGM receiver for the Dexcom G4 system.
The Vibe is not compatible with any closed-loop systems.
DANA R
This was the predecessor of the DANA RS. It hasn't been sold here for a while now, but there are still some in use in Australia. The major difference is that the older pump uses an older Bluetooth protocol, and was packaged with a linked BG meter. There are also some cosmetic differences such as more control in the RS over vibrations/alarms.
The DANA R is compatible with the AndroidAPS closed-loop system.
---
What now?
New pumps will continue to be developed, and we will continue to see news over the next six months. But the Prostheses List will not have any further additions until March 2019, so changes may be incremental before then.
There are usually other pump options on the horizon, but it can take a while for devices you hear about overseas to make it to Australia. And sometimes those devices will never make it here for various political, economic, and technical reasons. But here are a few we know of:
OmniPod

I have to keep pointing this out, but here goes again.
The OmniPod is NOT available in Australia, and we know of no plans to bring it here. This includes the new "Dash" system Insulet is developing. Unless the entire funding model used in the Australian market somehow changes!
Accu-Chek Solo
This "micropump" recently achieved CE approval for supply in Europe, so it's possible that it will eventually reach Australian shores too.
It's a tube-less "patch pump" worn on the body, and in that regard it's similar to the OmniPod. But it is comprised of two components: a re-used pump component, and a single-use reservoir/cannula component. As such it might be able to fit the Australian pump funding model.
As news develops about the Solo and any other possible pumps I'll definitely keep you informed.