A good reliable, accurate, and convenient BG meter is an important tool for anyone with diabetes.
I wrote some years ago about my favourite meters. And in fact my favourites haven't changed much. But the Australian market has, especially with the new laws prohibiting the supply of devices that use "button cell" batteries without child-safe battery compartments since June 2022. So here's a summary of some recent meters.
Contour Next One
This meter has been renowned for years as having high precision and accuracy, and is relatively small in size. It uses the same Contour Next strips as the rest of the Contour Next family (including the Contour Next Link meters used by Medtronic pumps up until the 670G). And it uses Bluetooth to connect to phone apps such as xDrip+ and Ascensia's Contour.
In fact the Contour Next family has historically shown up well in published comparisons of meters. And when the Contour Next One was introduced, additional claims were made of higher accuracy.
Incidentally, if you use the Omnipod DASH PDM, the case that's currently supplied with it includes sections designed to hold the Contour Next One and a tub of Contour Next strips.
But as of June 2022 the Contour Next One meter has been discontinued. In Australia at least. Apparently there is no plan to produce a version with a childproof battery compartment. And this isn't particularly surprising if you've examined it. There's not much room for the required mechanisms.
However, the Contour Next system is still around.
Contour Next
Back in 2020 I wrote about the updated Contour Next. This is a physically-larger meter that otherwise shares all the functions of the Contour Next One. For me the main disadvantage compared to the One model is just that it takes up more space in my kit.
It's certainly easier to read, which will be important to some people.
This meter has been updated and now has a child-proof battery compartment. It is Ascensia's only current meter product.
Accu-Chek Guide
This meter is the one that's still my own personal favourite. It links via Bluetooth to apps such as xDrip+ and MySugr. There is also the older Connect app, but it was superseded by MySugr.
Although Accu-Chek hasn't made loud claims about the accuracy of the Guide the way that Ascensia did about the Contour Next One, in my own testing it's been exceedingly accurate.
The meter was updated a while back so that the battery compartment is "child-safe" and can't be opened with just a fingernail. This involved a change to the rear housing of the pump (not just a replacement battery door). I have examples of both styles.
Accu-Chek Guide Link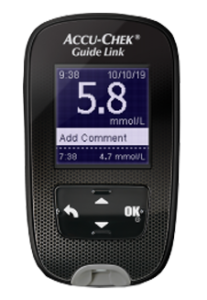 The Accu-Chek Guide Link meter that is supplied by Medtronic for the 770G and 780G pumps is essentially a Guide meter with slightly tweaked firmware.
It uses Bluetooth to connect to the pumps, but isn't supported by phone apps. Otherwise it seems to have all the functions of a plain Guide. And in my testing seems to have the same accuracy.
Accu-Chek Guide Me
This is essentially a cut-down version of the Guide. I've written about it previously.
It seems just as accurate as the full Guide, but for me I miss the lights for night-time use as well as the strip eject button. But at least it has virtually the same Bluetooth functions.
It was also updated recently to have a child-safe battery compartment.
Other meters
Of course, there are quite a few meters around in Australia that have BG strips subsidised by NDSS, and the new laws about child-safe battery compartments will affect them all (except any that use AAA batteries or recharge via USB).