This is an overview of Accu-Chek's BG meter families, but also goes on to introduce some changes for the Australian market.
Accu-Chek have had several distinct "generations" of BG meter technology. In particular (from oldest to newest) the Aviva, Performa, and Guide ranges. Each has been a type of BG test strip, with a series of meters using each. There's also the Mobile meter, and the Instant family.
My summary of the meter families
Instant. Built to a price.
Compromises on features but can be a decent affordable option for some people.
Mobile. A niche system, built on more than just the "strip" technology.
Aviva. The original, gradually being phased out.
Performa. The "middle" generation.
Guide. The current flagship.
May 2021 news
This week Roche Diabetes Care Australia made two announcements:
Impending retirement of the Performa II
At the end of June 2021 the Performa II will be retired. Of course Performa BG strips will continue to be available through NDSS for many years. Existing Performa II meters won't need to be replaced, and in fact the Performa Combo handset will still be supplied as part of Combo pump systems.
Arrival of the Guide Me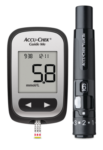 Yes, the Guide Me has arrived in Australia. It's a cheaper version of the Guide. To summarise from my earlier article, the main differences being:
Reflective (not backlit) display – not so convenient for nocturnal testing.
No strip light (again, only useful for nocturnal testing).
Bluetooth pairing PIN printed on the back, not randomly generated each time.
No eject button. Just pull the strip out like many other meters.
Fewer buttons and more primitive UI. Very similar to that of the Performa II.
Uploads data to the phone as soon as it's ready (the Guide uploads when powering off, giving you a chance to add notes to the reading).
Obviously the strips for the Guide Me are already available on NDSS.