Well as I expected, lots has been happening in the diabetes tech world while I've been away working on the African photographic expedition. So this post is a little bit of a catch-up.
Ryzodeg

At the start of August the Australian PBS was updated to include Novo's Ryzodeg insulin. Although Novo's long-acting Tresiba is not on PBS yet (although it does have TGA approval), Ryzodeg now is, and can thus be bought at standard PBS prescription prices.
It's a 30:70 mix of NovoRapid and Tresiba, like the old Mixtard 30/70 (a mix of Actrapid and Protaphane insulins).
It's especially useful for the old regime of twice-daily injections, although it doesn't seem useful for the more-flexible "MDI" regime where we can just bolus for each snack/meal, and have a separate daily/bi-daily basal injection. The activity profile of the Tresiba component does mean that you can apparently move injection times around a lot without significantly affecting the basal activity. But the mix does mean that each time you inject basal insulin you're also injecting a proportional amount of NovoRapid bolus. This seems to be mainly targeted at managing Type 2 diabetes, but we'll see: it may be useful in some T1D management regimes also.
Ryzodeg is available in FlexTouch pens, and in PenFill cartridges.
Cellnovo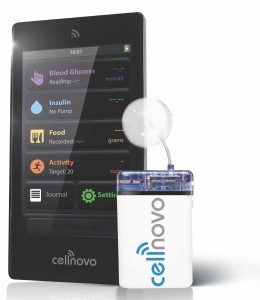 The little Cellnovo pump (almost a "patch" pump, but actually a "tubed" pump with a fixed tubing length of only a few cm) continues to develop. They introduced the Bluetooth version earlier this year (replacing all the pumps deployed in Australia so far, and then rolling out to more people). This included a new controller handset, which internally runs the Android operating system (although you're not provided with access to the operating system itself: only Cellnovo's apps running on it). It has a BG meter built in, using Accu-Chek Performa test strips (which in my testing have turned out to be quite accurate). But the controller is one of the areas that Cellnovo have had a lot of reliability problems with worldwide, and there's apparently a new new handset on the way.
Instead of their own custom device, I'm told that they have contracted with a mobile phone provider to produce a run of phones with custom firmware. They won't be usable as phones, but the device has all the features they need to be a pump controller handset. The new handsets should hopefully have better reliability (probably being based on an existing phone model) although they won't include a BG meter. This means that you would need a separate BG meter, but it might also play into any future move to support other glucose-data sources such as Libre/Dexcom/etc.
We'll see what actually turns up next in the world of Cellnovo!
Tandem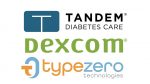 Tandem made news in late July with the opening of a pivotal study in the US using the t:slim X2 pump with Control-IQ firmware to run a closed-loop pump system (with the algorithm developed by TypeZero Technologies). Their earlier Basal-IQ "hypo-minimiser" software was described in our July Tandem update article (and is due to launch in the US in August).
Back in January they completed their pilot Control-IQ study (using Dexcom G6 sensors). This new pivotal study will run for 6 months, which means it will at least be 2019 before this gets FDA approval. As per usual, we expect it will take a while to trickle down to Australia.
The next significant Tandem news for Australians should be at the AMSL launch of the t:slim X2 pump in a fortnight. t:slim supplies are expected to be in the September update to the NDSS products. And I am told that all current (in-warranty) Vibe customers will be migrated to the Tandem pump at some point. More news to come.
Medtronic
The Medtronic 670G pump (the one with the first commercial closed-loop functionality) got FDA (US) approval in 2016 and began rolling out to US customers in 2017.
In late June 2018 the 670G received a "CE mark" (European approval) although I don't know when it might start rolling out to European customers. At around the same time the FDA approval was updated to allow paediatric use down to 7 years of age.
As I've mentioned in the past, for Australia their next pump will need to get past two milestones: TGA approval and then addition to the Prostheses List. The next Prostheses List update should be out at the start of September, and at this point it seems "unlikely" the 670G/whatever will make that update. But the Tandem should be on the list, along with possibly one other new pump. The subsequent Prostheses List update will be in April 2019.
Goodbye to Africa (for a while)
2018's Namibia expedition is over. I have various diabetes travel stories to share, but I'll get to those. And there may be an opportunity for other people with diabetes to share the next adventure with me in person: time will tell.