What's a quinquennial? A 5-year anniversary. Yes, it was a whole 5 years ago I finally set up my "DIY" closed-loop.
I'm obviously still using it, although there've been lots of changes along the way. Both in terms of improvements in clinical results and in terms of quality of life.
What's changed in the technology?
I started out with OpenAPS, running on a pocket "Edison" Linux computer and driving a Medtronic Paradigm 522 insulin pump. My CGM was using Libre1 sensors, managed by an Android phone (connected to the Edison via Bluetooth).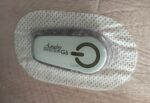 Along the way the CGMs I've used have included Libre1 and Libre2, Dexcom G5 and G6, and even PocTech and Medtronic systems! G6 is my current stable base.
I've used quite a few pumps, but today I mostly use YpsoPump and Omnipod DASH pumps. These are small and compact devices. I've been very lucky to work with the OPN clinical-trial versions of the YpsoPump.
My current hardware
The device that controls it all has shrunk too.

Today the controller I'm using is a Cubot Pocket phone. An Android 11 device with a 4″ screen, enough battery to last almost 2 days between charges, and excellent Bluetooth connectivity. It's a shame it's not rugged/waterproof too (although if I'm heading off for watersports I can switch to other devices which are). It's linked to my Garmin Forerunner watch, which I find a useful tool in managing my exercise.
The software I'm usually running is very similar to AndroidAPS. It's something we've instrumented with extra controls for use in clinical trials, but pretty much everything I'm using exists in AndroidAPS. In fact the underlying algorithm is the same as OpenAPS.
Why use opensource AID systems?
When I started out there were no commercial AID choices. Today in Australia we have Tandem's Control-IQ, Medtronic's 2nd-generation 780G, and Ypsomed's CamAPS is being introduced. So I've occasionally been asked:
"With commercial systems available, why would anyone use 'DIY' systems?"
The answers will of course vary for each of us, but several responses immediately spring to my mind:
The commercial systems will help lots of people: on the whole they achieve better clinical results than most of us manage without the automation!
But they're not as flexible.
They're not (in my experience) as capable. There's a difference between "better than without" and "non-diabetic" levels.
They often involve a lot of management and hand-holding to keep running. The phrase "quality of life" is relevant.
This is a relative thing: see below for my experience.
And they're always playing catch-up.
I've not yet seen a commercial system "leapfrog" the abilities of the opensource systems. The closest to that might be the Omnipod5 system in the US, where the loop is integrated into each insulin pod so no extra device is needed. But that's only part of the feature set to consider.
In short the commercial systems may be improving, but so are the opensource systems!
The "diabetic life" after 5 years of looping
Indeed, after almost 40 years of living with T1D.
No commercial system claims to support the functionality I've had with my own loop for several years now:
Just to put the following things in context, I definitely have T1D: without insulin I would soon die.
I don't give myself insulin for food. I don't even count carbs.
I still tell the system when I'm going to be exercising, but otherwise it runs everything in the background.
I can change between CGMs and pumps as suits me. I'm not locked into a single choice.
I can integrate my setup with lots of associated technology. The Garmin ecosystem is just one example.
I just glance at my watch every now and then to see how it's going, and get back on with living life. Occasionally I adjust settings when I notice patterns changing, and I do replace CGM sensors and pump reservoirs/infusion sets when needed. But diabetes does not feel like a day-to-day burden.
And yet my clinical results are not terrible either.
My time-below-3.9 (70 mg/dL) currently hovers around 2%.
My time-in-range for 3.9-7.8 (70-140) hovers around 87%.
My TIR for 3.9-10 (70-180) hovers around 96%.
My HbA1c generally hovers between 5.1-5.5% (32-37 mmol/mol).
I know I could get even "better" results if I put in more work day-to-day, but for now I'm more than happy with this compromise.
Some users of opensource AID systems (e.g. Loop on iPhones) say to me that they're not interested in the commercial systems because with those they can't bolus from their watch. In response I think "You have to bolus???". I can with the system I use, but I don't have to.
Everyone's expectations are based on their experiences.
Now what?
I can't see the opensource systems going away any time soon, and I can only try to imagine what features we'll have access to in another 5 years!