I wrote recently about re-usable pens (which I much prefer over the disposables). For years in Australia Novo Nordisk has provided two pens to use with their Penfill cartridges:
NovoPen 4: 1U increments up to 60U/dose.
NovoPen Echo: has memory of last dose size and time, 0.5U increments up to 30U.
Of course, the older NovoPen 3 still works (I know of many still in use). Now they've brought the NovoPen 6 to Australia.
This is available for free from pharmacies (and presumably directly from Novo). It has a few nice features:
Like the NovoPen 4 it has 1U increments up to 60U/dose. To get 0.5U increments you'll still need to use the NovoPen Echo.
But it has memory like the Echo. A tiny LCD display on the pen button shows this.
Incidentally, the NovoPen 5 had this, but it was never brought to Australia.
A new function that the NovoPen 6 brings is NFC. You can scan the pen using apps on your phone to retrieve the history of doses. Mind you, we don't have access to this in Australia yet.
Novo do have a NovoPen Echo Plus which is the 0.5 U partner to the NovoPen 6 (like the Echo was to the 5) but I've seen no sign yet of this arriving in Australia.
What triggered this?
The introduction of the NovoPen 6 has coincided with Novo's supply issues of the Ryzodeg FlexTouch disposable pens. Ryzodeg is available in Penfill instead, and it looks like a large number of people (mostly with T2 diabetes) are getting switched to the Penfill format and thus need pens…

Ryzodeg is a mixed insulin used by a lot of people with T2D. It's essentially 70% long-acting "Tresiba" combined with 30% NovoRapid.
The "anticipated shortage" report at the TGA says the Ryzodeg FlexTouch shortage will commence on the 16th of June 2023 and continue for almost a year. But Penfills are still available.
Of course, the NovoPen 6 also works with all the other Penfill cartridges.
It may also be related to the possibility that Fiasp might return to us in Penfill form.
Last dose display
The dose/time display is actually an upgrade from the Echo. It shows the precise amount of time since the dose, not just bars showing approximately how many hours.

Memory and uploads
The display on the end of the pen only shows you the last dose (even if it was just a prime function). But the pen actually remembers the last 3 months worth of doses, and you can upload that to your phone via an NFC scan.
However, while software including Glooko, MySugr, and LibreLink can do this overseas, the versions of those in the Australian App/Play Stores do not yet support this feature. The Novo documentation currently says "Coming soon".
OpenSource FTW
Although no commercial software is yet available in Australia to talk to these pens, it turns out that the opensource xDrip+ software (which runs on Android and some of us use to control CGMs including Dexcom G6) already includes support for reading the last week's worth of doses from the pen.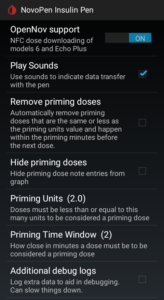 I have confirmed today that this works on my Cubot KingKong Mini 3 with a NovoPen 6.
As the source code for this is freely available, we may see it appear in a few more tools now that the pens are available too.
Smart Pen?
Novo has sometimes used this term for these pens, although there's not a lot of "smarts" in the pen. It does facilitate interfacing with smart software though.
Mind you, we do have to remember to scan the pen to read the info out (unlike the Bluetooth-enabled pens such as the Medtronic/Companion InPen, and some others starting to reach markets overseas). But it's a lot better than having to rely on our memories and manual records.
Battery life
The pen's internal battery cannot be replaced (well, I know the Echo's can't: I've tried) but it is rated to last 4 – 5 years.
When the battery eventually dies the memory functions will cease to operate, but the pen keeps working in terms of measuring and delivering doses.
Where can you get it?
From pharmacies (at no cost). Novo even provides a list of which pharmacies are participating in their NovoPen 6 program. Just feed in your location and it will give you a map. But you might also find it if you ask at your regular pharmacy.